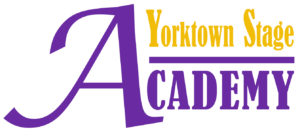 A COMPLETE MUSICAL THEATRE TRAINING PROGAM
Students, 8-18 years of age, can now register for Academy, combining the best that Yorktown Stage has to offer.  
Academy is an all-inclusive training program running September-August.
INCLUDED IN THE PROGRAM
– Weekly Acting Class, which meets on Tuesday or Wednesday
– Weekly Broadway Dance Class, which meets on Tuesdays
– Two Yorktown Stage Kids productions, 4 week period for rehearsals and performances
– Payable in 8 equal monthly payments, September – April
– 10% discount on all other Yorktown Stage programs, including additional dance classes at Just Dance!
– 10% discount for the popular Yorktown Stage Summer Camp *
– 50% discount of our NEW Ballet class, the FUNdamentals of ballet meets on Thursdays
* For the first session of registration, members will receive a 10% discount
and for each week thereafter a 5% discount. 
COST OF THE PROGRAM
Total cost of the program is $1,694 or $206/month for 8 months. Save $250 or more!
A registration fee of $50 will be added to the first payment.
REGISTRATION FORM
Click the link below:
https://www.yorktownstage.org/wp-content/uploads/2019/08/AcademyRegistration-1.pdf