Just Dance!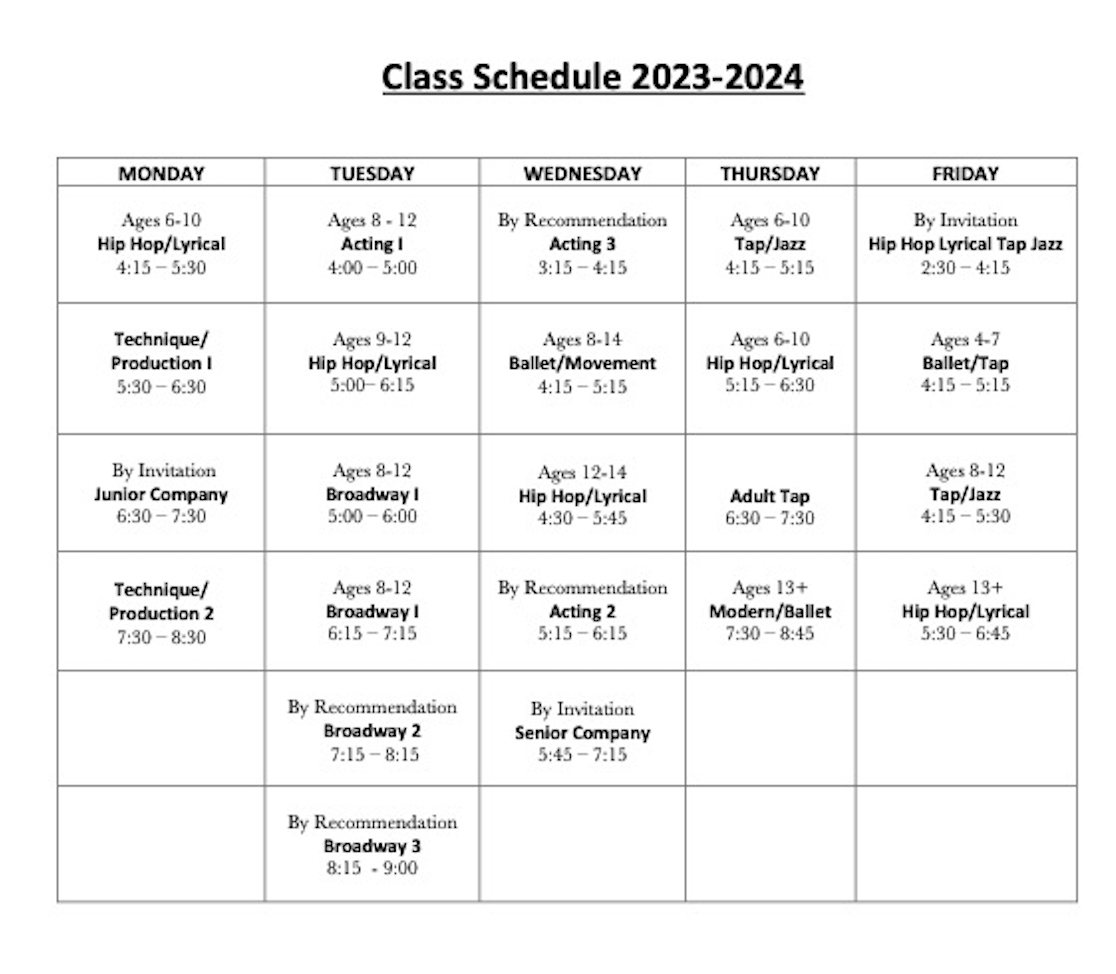 REGISTRATION IS NOW OPEN
Class Fee   $575
Costume Fee   $100/$130
Registration Fee   $50
You will receive an email confirmation detailing all costs!
NOTE: Total cost is payable in 8 equal payments from September to April!

Registration: Register online or download registration and mail to Yorktown Stage, PO Box 877, Yorktown Heights, NY 10598.  Credit cards accepted.  Checks payable to Yorktown Stage.
Classes Begin: Thursday, September 7.  Classes held weekly through Friday, May 24.  In the event of snow, you will receive an email concerning our open/closed status.  Students are asked to arrive 5-10 minutes before the class to get ready.
There will be no classes on calendar dates below:
Friday, September 15, Rosh Hashanah Eve
Monday, September 25, Yom Kippur Eve
Monday, October 9, Columbus Day
Tuesday, October 31, Halloween
Friday, November 10, Veteran's Day
Thursday-Friday, November 23-24, Thanksgiving Recess
Monday-Friday, December 25-29, Holiday Recess
Monday, January 1, Holiday Recess
Monday, January 15 Martin Luther Kings Day
Monday-Friday, February 19-23, Winter Recess
Monday-Friday, March 29-April 5, Spring Recess
Friday, May 24, Memorial Day Weekend
Monday, May 27, Memorial Day
Fees/Tuition: The fee for each class is $575.  The costume(s) fee is as follows:  classes requiring one recital costume $100 or classes requiring two recital costumes $130.  Registration Fee is $50, which will be charged with the first monthly payment.. Payments are made in eight (8) equal monthly payments from September – April.  A credit card for monthly charges is required.
Recital Costumes: We will keep you informed about measurements and styles for Recital costumes, the cost of which is included in the monthly payment.
Mandatory Recital Classes and Rehearsals: Monday – Friday, May 20 – 24; and Tuesday–Thursday, May 28–30 for tech and dress rehearsals.
Recital Dates: Friday, May 31 @ 7:00 and Saturday, June 1 @ 2:00 pm at Yorktown Stage. Tickets will be on sale in January.
Videos of the Recital may be offered for sale.
Terms: Tuition is non-refundable after first week of classes and then only refundable less 10%.  There will be no credit or refund for missed classes. There is a $30 charge for returned checks.
Teachers
Debbie Mellone has been teaching dance for over 32 years. Debbie teaches a variety of dance classes including tap, jazz, lyrical, hip hop and tumbling. She has been teaching a competitive dance team for over 20 years. Debbie and her teams have attended many competitions and achieved many awards and placements. She is also certified to teach Zumba and Zumba for children. She currently teaches at a local gym and works with Yorktown's town camps teaching Zumba and dance to the children at the camps. Debbie's classes are filled with fun and structure but strives to get her students to their fullest potential.
Aisling Halpin is an NYC based performer, teacher, and choreographer. After receiving a BFA in Musical Theatre from Syracuse University, Aisling has toured across the country with 4 national tours; the 1st National Tour of Cabaret, A Chorus Line, Peter and the Starcatcher, and The Radio City Christmas Spectacular. She has also appeared regionally at the Gateway Playhouse , The John W. Engeman Theatre, Syracuse Stage , Merry Go Round Playhouse , West Virginia Public Theatre, Tibbits Opera House, and Cortland Repertory Theatre. In NYC, Aisling danced in the Public Theatre's gala, One Singular Sensation, at the Delecorte Theatre and performed in The Time Machine at the New York Musical Festival. While pursuing her performing career, teaching has been another huge part of her life. She has taught Broadway Masterclasses across the country as well as teaching regularly in the Tri-State area. She was nominated for a Michigan WILDE Award for her choreography for Guys and Dolls at the Tibbits Opera House. Other choreography credits include Crazy for You, Jesus Christ Superstar, Nymph Errant, A Chorus Line, and Lysistrata.
Donna Scheer (Acting, Ballet/Movement). In 35+ years of teaching, Donna has been on the theatre and dance faculties of Long Island University CW Post and the State University of New York at New Paltz, the Director of the School for Performing Arts for National Dance Institute New Mexico in Santa Fe, and established a full dance program at Santa Fe High School. She has performed, directed and choreographed in regional theatres throughout the country. Her principal roles include those in major musicals (West Side Story), contemporary American drama (Angels in America: Perestroika), and Shakespeare (The Taming of the Shrew) as well as many others. Her choreography includes works in modern dance as well as musical theatre and has been seen in regional and stock theatres across the United States. She has directed or choreographed, among many others, Oklahoma, Chicago, Fiddler on the Roof, and A Little Night Music. She holds a BA in Theatre with a Dance Emphasis from Santa Clara University and an MA in Theatre from San Jose State University, and also studied at Stanford University in the Graduate School of Education with additional work in the Harvard Graduate School of Education Project Zero Program. She is a highly sought-after instructor for her extensive understanding of theatre and dance curriculum and teaching methodology.
Jenna Mastro has been trained at The Westchester Ballet Center for 10 years and this past year at YS Just Dance! Jenna studied ballet, pointe, modern, tap, Broadway, Bollywood, jazz, contemporary, hip hop, lyrical and Hawaiian and attended several WBC Summer Intensive programs. Jenna performed with Dance Theatre in Westchester at Brooklyn College, West Point, the Yorktown Stage and The Paramount Hudson Valley in their Colonial Nutcracker in the Corps de Ballet including roles as the Nutcracker, Chinese, Snow and Flowers. Jenna was a member, choreographer and President of YHS Dance Company and is the Dance Instructor at the Yorktown Stage Summer Camp. Jenna is excited to share her love of dance in a structured, yet fun way, focused on technique, creativity and confidence.
Stefanie Mellone has been dancing for 17 years and teaching for over 5 years . Stefanie teaches a variety of different genres such as tap, jazz, lyrical and hip hop. She was a competitive dancer for 4 years. Stefanie has attended many competitions and achieved many different awards. Stefanie's classes are all about having fun and letting your imagination run free on the dance floor giving her students the best experience possible. 
Class Description

:

Hip-Hop: A fun street style dance that is fast moving and high energy.

Lyrical: This class will focus on barre work and proper technique, placement and style of lyrical dance. Students will build a technical dance foundation for students new and old to lyrical.

Tap, Ballet: Introduction to movement and basic ballet and tap technique. This program helps to build a child's development and confidence. Dancers will get a feel for all styles of dance.

Jazz: Class covers all styles of jazz. Students learn isolations, combinations, turns and leaps through the utilization of various styles of jazz such as Contemporary, Lyrical, & Broadway. Class consists of Stretch and Strengthening during warm up, as well as dance combinations and progressions.

Broadway Dance: Starts with basic stretching, focusing on stretching our legs and hips. We will then move into basic across the floor activities including, leaps, chaînés and chassés. Throughout class we will focus on the dancers lines and making sure that the movements are executed to the best of the dancers abilities. Class will finish with a combination combining movements worked on.

Technique/Production: The technique portion of the class is the basic fundamentals of dance, from holding your body correctly while performing, to executing skills properly in a routine. The Production is the routine that they will perform in at our end of the year recital. For example, this class will be a part of the opening performance of our show.

Modern/Ballet: This class will begin with a ballet warm-up focused on ballet technique and basic modern skills. Students will then learn and practice a variety of modern combinations and end class with applying combinations to choreography. Students will be able to demonstrate both sharp and fluid movements while interpreting music and exhibiting self-expression.

Movement/Ballet: These classes don't have to be grim and slow and boring.  Should be named "Ballet FUNdamentals".  The basics of ballet taught in a unique and engaging style with classical music, pop and hip hop music; emphasis on technique, body placement/alignment, strength and flexibility-building; great physical training to take to all your other performance areas (acting, musical theatre, other dance styles, etc).