Summer Camp Workshops
Summer 2019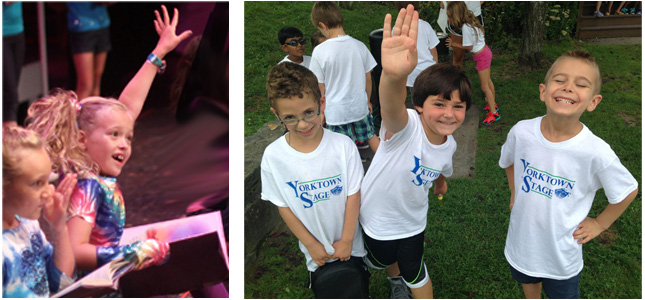 WHERE EVERY CHILD HAS A CHANCE TO SHINE!
Summer Session Dates:
Session 1: Jun 24 – Jun 28
Session 2: Jul 8 – Jul 19
Session 3: Jul 22 – Aug 2
Session 4: Aug 5 – Aug 16
Session 5: Aug 19 – Aug 23
Summer 2019 Performances
Sess 1: Dance Mania ~ Fri Jun 28
Sess 2: Dance Mania ~ Fri Jul 12
High School Musical  Jul 19
Sess 3: Dance Mania ~ Fri Jul 26
Annie ~ Aug 2
Sess 4: Dance Mania ~ Fri Aug 9
Seussical ~ Aug 16
Sess 5:
Little Shop of Horrors ~ Aug 23
Goals:
Develop a Positive Attitude
Advance Self Esteem
Expand Communication Skills
Establish Confidence
Experience the Thrill of Performing
Discover Exciting New Interests
Make New Friends
Enjoy Traditional Camp Activities
Workshops:
Acting: Improvisation ~ Musical Comedy
Dancing: Hip-hop ~ Staging ~ Choreography
Singing: Technique ~ Style ~ Performance
Crafts: Posters ~ Head Shots ~ Face Painting
Auditions: Song Selection ~ Preparation ~ Presentation
$225 for Session 1
$379 for Session 2 *
$379 for Session 3
$379 for Session 4
$225 for Session 5
NOTE: You may sign up for one week of any session: $225.
There is a one-time discount of $15 for each sibling registered.
Included for each child is a Yorktown Stage Tee-Shirt
Monday - Friday
9:00 am - 3:30 pm
Extended hours available
8:00 am - 6:00 pm
Parents provide lunch, snacks and drinks daily.
Street vendor available on location.
Workshops held indoors and outdoors
at the air-conditioned theater located at
1974 Commerce Street, Yorktown Heights, NY 10598
If a person withdraws from a session prior to June 15th of the camp year, then the total fee (less 25% for administrative costs) will be refunded. There will be no refunds for any person for any reason after June 15th of the camp year.. The Camp Director and/or the Executive Director have the right to dismiss any child for behavioral problems without refund. Money will not be refunded for days missed due to dismissal or illness. NOTE: Your application cannot be processed unless completely filled out and signed, and all fees paid. Your medical form(s) must be submitted no later than three (3) weeks prior to the start of the session.
Confirmation of Enrollment
You will receive an email confirmation of enrolment once the application is processed. This confirmation will contain important information. If you do not receive this confirmation, you must contact the Camp Director at Yorktown Stage, 914-962-0606.
What is a typical daily schedule for the children?
The children arrive between 9-9:30 am and stay with their counselors and group. During each day, each group will attend the six (6) workshops for 45 minute segments. For example, group 1 might start with the dance workshop. Their next workshop might be Crafts, followed by Improvisation. All groups then break for lunch. When they return, Group 1 might have Counselor Time, Rehearsal Time and then finish the day with the Staging/Audition instructor.
What is the ratio of campers to counselors?
There is typically one counselor for every 4-5 campers.
What do the campers do in Counselor Time?
The activities during counselor time are decided by the Head Counselor. Typically, campers will enjoy traditional camp activities and games or discuss events or issues of the day.
What happens if my child needs to use the bathroom?
Counselors take the children on bathroom breaks whenever necessary. If between workshops, those campers will catch up in the next workshop. If in the middle of a workshop, those campers will complete the task as quickly as possible and then return to the workshop.
Is there refrigeration for lunch?
No. While there is refrigeration for medicines, if necessary, there is no such accommodation for foods. We ask that all lunch items sent with the camper be properly packaged, in thermal bags if necessary.
What happens if I forget to send lunch with my child?
 You may bring lunch to the camp at any time during the morning and it will be given to your child's Head Counselor.  Your child may also visit the lunch truck with your permission, to purchase lunch items. We ask that you leave $4 with your child.  But if counselors or staff members expend monies on behalf of your child, please be so kind as to return the loan as quickly as possible. Under no circumstances will any child be allowed to share food with another child.
If I lose the Confirmation Letter with all the camp rules and information, where can I find the information?
You may go to our website, www.yorktownstage.org, and select 'Camp' then 'Summer Camp Workshops' then 'Applications for Print' and then 'Confirmation Letter.'
Are the campers ever left alone?
The children are never left alone. The counselors are always with the children - during their workshops, lunch, to start the day and to end the day.
What is Lip sync?
It is a performance, with dancing and staging. The children rehearse their dance - each group gets their own song - during the week to perform it on the Friday of Camp Week 1.
What do the children do during extended care hours?
The counselors treat the extended care as another workshop of the day. Activities include dancing, group games, crafts and learning the dances of other groups.
How do I pay for extended care services?
If you wish to utilize the Extended Care Program, you must pay at the time you  use the service, or complete an authorization form to allow use of your credit card at the end of the session. The camp registration form contains your authorization for use of this card. You may always pay on the last day by cash or by check, if you wish, canceling the need for the charge. If you do not make arrangements before a child is left in Extended Care, you will agree that any credit card used for previous camp charges, including camp fees, may be used for this purpose. You will receive an email when your credit card is charged.
Do I need to tell you in advance if I will need Extended Care?
No. The counselors will be present for Extended Care daily from 8am - 9am and from 3:30pm - 6pm. If your child is not picked u at day's end, he/she will automatically be placed in Extended Care awaiting your pickup.
What are the charges for Extended Care?
In the morning, there is a single charge of $8 for a child dropped off earlier than 9am. In the afternoon, charges commence for all children who remain past 3:45 pm.  Thereafter you will be charged $4/half hour for any part of a half hour during which your child remains in Extended Care. If picked up between 3:45 and 4:35 pm, the charge is $8. If picking up between 4:35 and 5:35 pm, the charge is $16, and if picked up between 5:35 and 6:00 pm, the charge is $20.
What is the cost of tickets for the Friday performances?
There is no charge for admission to the Friday performances. You may bring friends and relatives as you desire.
If it rains, where will my child eat lunch?
We do not go outside on rainy days or days experiencing extreme heat or humidity.   In inclement weather (some days are actually too hot to go outside), each group stays  in the location of their last workshop before the lunch hour and enjoys lunch in that space.
Where do I park when I come for the performances?
There is ample parking on Veteran's road (in legal spots) and the triangle shopping center below our building. If parking in the triangle shopping center, you can easily take the stairs from the lot, walk along the side of the track and enter the building. Please do not park illegally, as you may be towed and/or ticketed.