Summer Camp Workshops
Summer 2018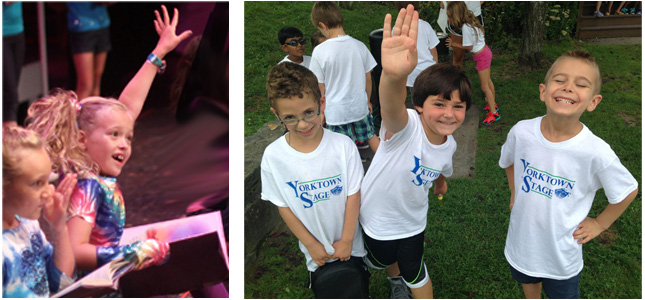 WHERE EVERY CHILD HAS A CHANCE TO SHINE!
Summer Session Dates:
Session 1: Jun 25 – Jun 29 (One week)
Session 2: Jul 2 – Jul 13
Session 3: Jul 16 – Jul 27
Session 4: Jul 30 – Aug 10
Session 5: Aug 13 – Aug 17 (One week)
Summer 2018 Performances
Session 1: Dance Mania ~ Fri Jun 29
Session 2: Dance Mania ~ Fri Jul 6
Theme ~ Greasers ~ Jul 13
Session 3: Dance Mania ~ Fri Jul 20
Theme ~ Mamma Mia ~ Jul 27
Session 4: Dance Mania ~ Fri Aug 3
Theme ~ Wizard of Oz ~ Aug 10
Session 5:
Theme ~ Little Mermaid ~ Aug 17
Goals:
Develop a Productive and Positive Attitude
Advance Self Esteem
Expand Communication Skills
Establish Confidence
Experience the Thrill of Performing
Discover Exciting New Interests
Make New Friends
Enjoy Traditional Camp Activities
Workshops:
Acting: Improvisation ~ Musical Comedy
Dancing: Hip-hop ~ Staging ~ Choreography
Singing: Technique ~ Style ~ Performance
Crafts: Posters ~ Head Shots ~ Face Painting
Auditions: Song Selection ~ Preparation ~ Presentation
$225 for Session 1
$379 for Session 2 *
$379 for Session 3
$379 for Session 4
$225 for Session 5
NOTE: You may sign up for one week of any session: $225.
* There is no camp Wed July 4
There is a one-time discount of $15 for each sibling registered.
Included for each child is a Yorktown Stage Tee-Shirt
Monday - Friday
9:00 am - 3:30 pm
Extended hours available
8:00 am - 6:00 pm
Parents provide lunch, snacks and drinks daily.
Street vendor available on location.
Workshops held indoors and outdoors
at the air-conditioned theater located at
1974 Commerce Street, Yorktown Heights, NY 10598
If a person withdraws from a session prior to June 15th of the camp year, then the total fee (less 25% for administrative costs) will be refunded. There will be no refunds for any person for any reason after June 15th of the camp year.. The Camp Director and/or the Executive Director have the right to dismiss any child for behavioral problems without refund. Money will not be refunded for days missed due to dismissal or illness. NOTE: Your application cannot be processed unless completely filled out and signed, and all fees paid. Your medical form(s) must be submitted no later than three (3) weeks prior to the start of the session.
Confirmation of Enrollment
You will receive an email confirmation of enrolment once the application is processed. This confirmation will contain important information. If you do not receive this confirmation, you must contact the Camp Director at Yorktown Stage, 914-962-0606.